The Biggest Event of the Year for ClickFunnels. It's Happening live from Sep 22nd to 25th in Orlando, Florida, or attend it in the comfort and safety of your own home.
4 Days of Sales Funnel Learning
Day 1: The Foundation
Russell Brunson – The Co-Founder and Former CEO of Clickfunnels, needs no further introduction. 😀
Todd Dickerson – Co-Founder of Clickfunnels, the Main Coder behind Clickfunnels, will be Sharing the Future of ClickFunnels with You.
Anthony Trucks – Former NFL Athlete, American Ninja Warrior on NBC, and International Speaker and Entrepreneur
Kaelin Poulin – Founder of LadyBoss.com, a Global Weight Loss Movement that has helped over 500,000 Customers Learn to Love themselves, and Lose Weight. Kaelin is one of the Biggest Success Stories in ClickFunnels.
If You like Breakout Sessions, this year's "Roundtable" QNA is unfortunately canceled due to Covid restrictions. In place of it are 4 Skill Set Workshops.
Day 2: The Funnels
What's a ClickFunnels Event without Funnels? Watch the following speakers:
Funnels They would be covering:
• Summit Funnels
• Ecommerce Funnels
• Webinar Funnels
• Contest Funnels
• High Ticket Funnels
• Follow Up Funnels
• And More!
Day 3: The Traffic
Day 4: Impact and Legacy

P.S. Not to Mention the Bonuses You'll be getting and Remember You can Attend the Event at Home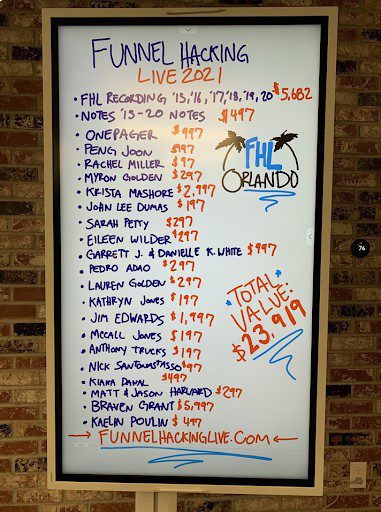 Before You Go Off Check Out the Official Guide to Funnel Hacking Live 2021