Gusten Sun, the number two affiliate for ClickFunnels 2.0 is jumping ship to GoHighLevel. And below is his video about why he is moving.
Like Gusten, we still love the world-class marketing education of Russell Brunson. While he mentioned he has nothing but good things to say about ClickFunnels, Here's what we interpret as his frustrations reasons as follows:
He got tired of waiting (The main problem with newly developed software, however already 2 years in development since the announcement in 2021 should be at an ok-to-use level for someone who loves ClickFunnels deeply, then again the monthly subscription and headaches seem to take its toll)
Frustrated at troubleshooting and working around the bugs for himself and his clients? We guess it would be bearable for one user, but when a marketing agency is helping a lot of people, it could have a snowball or avalanche effect. Bugs may have been easy to solve for a pro funnel builder, but following up on each and every client complaint could be a nightmare.
Technology – GoHighLevel has a more complete and working marketing suite for a funnel agency, including users support videos.
Price – ClickFunnels is one of the most expensive for the number of features provided. This is a big problem if most of the clients are just starting out as there would be more "add-on" costs, depending on your marketing requirement.
Money – Perhaps GoHighLevel has a better income model for marketing agencies, so with more profits, he can do more for his clients too.
Again, like Gusten, we love ClickFunnels too, even though it's not for us at this point in time too. But just like a race, one technology company may get ahead sometimes and one might fall behind – it's an infinite game until one is completely out. So, keep learning, and keep improving.
And don't fade them completely, as the saying goes, "Keep your friends close, and your enemies closer". Your competitors may be using competing software (in this case, it could be ClickFunnels, if you jumped ship) against you. Some times brilliant idea comes from the most unexpected place.
Update: Gusten Singing Praise for GoHighLevel
We Left ClickFunnels for GoHighLevel Sales Funnels Too
While this blog of ours is created with WordPress and we still want to keep it that way to maintain our proficiency in the platform as it is still the best blogging platform. (Disclaimer: Best is Always Subjective). We are also exploring the latest technologies to help our clients in regard to Sales Funnels.
So when Peng Joon jumped ship from ClickFunnels to start his own GoHighLevel agency. We went with him, after a year of observations. 🤭
During that year, we are exploring Mike Filsaime's Groove – Almost All-In-One Marketing Suite. The main "page editor" software, "Sales Engine", and "Membership Area" are working well already. The blogging platform still needs lots of work while Email Marketing has been abused for free by spammers previously, now recovering.
Development for the "side apps" has been slow, some will only start developing in 2024. They are ambitious to be the best in every marketing software category, and the unbeatable and irresistible offer was that it is a one-time payment deal, and we got in at the earliest and thus cheapest pricing.
In case you don't know who Peng Joon is
Peng Joon is a Sales Coach, Speaker, Author, and Entrepreneur in Malaysia, who has shared the stage with the likes of Richard Branson, Tony Robbins, Robert Kiyosaki, and many other thought leaders. He has been a ClickFunnels top affiliate, 2 Comma Club winners, and a Funnel Hacking Live speaker multiple times.
Peng Joon was also the top affiliate for Russell Brunson's Expert Secrets and Traffic Secrets Book Launch. So if you are into affiliate marketing, you can definitely learn from him too.
Peng Joon has also coached multiple prominent ClickFunnels events speakers such as:
Alison Prince
Eileen Wilder
Jaime Cross
Julius Dein
Kaelin Poulin
Myron Golden
Steve Larsen
So What Can GoHighLevel Do For You?
Peng Joon's GoHighLevel to be exact – SalesProcess.com (Used to be known as Cartnetics before he acquired the domain name, SalesProcess.com)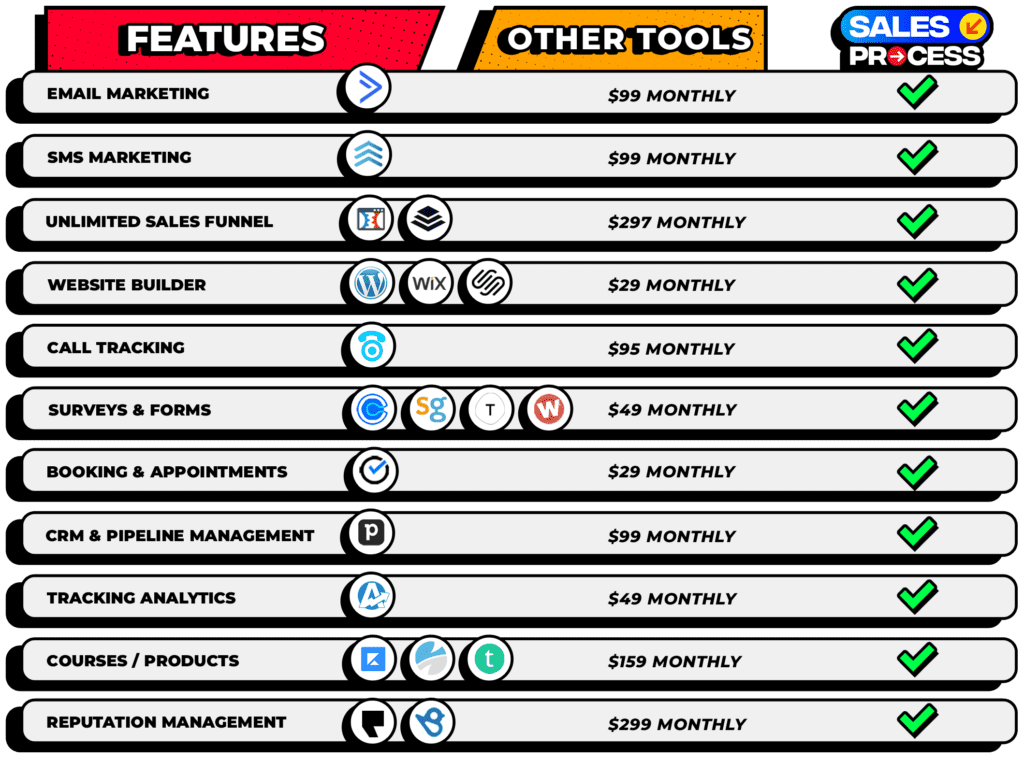 Because he left ClickFunnels earlier to start on his GoHighLevel marketing agency, now he is already providing the latest trends in marketing technology – Ai Content. On top of what you would get above, Ai to help you create content, copywriting, social marketing plan, and more. Currently, the Ai "Add-On" is free too for the first X thousands of subscribers…
Not forgetting, from time to time, Peng Joon is also conducting free 3 days webinars, teaching you how to sell your products or services online with his SalesProcess software. He also includes ready-to-use sales funnel templates that he himself is using for you to model, edit and deploy too.
Be sure to check out his YouTube channel too for more specific training.
P.S. For full transparency, I am a big fan of Peng Joon. For me to see how he defended ClickFunnels and "attacked" Groove with a "Clickfunnels vs GrooveFunnels (Extremely Biased Review)" YouTube video when Groove was heating up the sales funnels competition, to seeing him jumping to GoHighLevel… It does say a lot about the inner workings of ClickFunnels without saying, or the old cliche: "Watch what the marketer does more than what the marketer says…"