It was Alex Hormozi Birthday and he launched his second book, "$100M Leads" most likely in Amazon's "Direct Maketing" category too if we don't consider his "Gym Launch Secrets" Book. If you have read his $100M Offers: How to Make Offers so Good People Feel Stupid Saying No, which is one of the "MUST HAVE" books in Sales. You will want this one too.
Who is Alex Hormozi?
Just in case you don't know who Alex Hormozi is… Owner of Acquisition.com, Partner of Leila Hormozi, The #NeverSkipDessert Muscle Guy, and Entrepreneur with more than 1.5M YouTube Subscribers.
One of his most famous introductions is that he is "The Man Who Earns More than the CEOs of McDonald's, Ikea, Ford, Motorola, and Yahoo… Combined!, as a kid in his twenties for more than half a decade."
Or maybe his famous oneliner that already precedes him "I have nothing to sell you."
$100M Leads Book Launch Webinar Offer?
While Book Launch is of course about selling books. Anyone who comes across a marketer who gathers a large audience on Zoom and even on YouTube live on a 90mins presentation, would think that most likely there is a High Ticket Offer waiting… True enough, there is an offer, but there is a twist. (Hint: Alex has nothing to sell you)
You will have to find out yourself by watching the video above but we should cover the offer that he has presented.
The Offer is for you if:
You believe that getting Leads is the Life Blood of Business
You want to Learn Successful Advertising Methods
You don't have enough Leads or no Leads at all
Your Webpages don't Convert
People Don't Trust You Enough to Buy
Leads are costing you an arm or leg
"Whoever Can Spend The Most Money to Acquire a Customer Wins." – Dan Kennedy
Every marketing strategy Alex deployed that lead to this Launch is found in the book. And now introducing his offer…
Alex Hormozi $100M Leads System
Lead Magnet Mastery – The Mini Offer to Build Trust ($997 Value)
First 5 Clients Framework – For Someone to Start a Business or Side Hustle ($297 Value)
Mozi Media Content Method – For Someone to Build a Brand with Social Media ($1,997 Value)
Cold Outreach Playbook – For Someone who's shy and wants to be anonymous ($1,997 Value)
Paid Ads Playbook – For the Fastest Scaling Risk Taker ($1,997 Value)
Referral Playbook – For Anyone aspiring to be Great Products Developer ($997 Value)
Affiliate Playbook – For Someone who loves Building Business Relationships ($1,997 Value)
The 100M+ Lead Machine – Alex Hormozi $0 to $100M Scaling Roadmap ($1,979 Value)
Total Value of $12,076!
Price for Alex Hormozi $100M Leads System: $Watch The Video Above (Pun Intended)
If You are already benefitting from his free Offer Course, you would know where to find it. In case you are new to Alex Hormozi, here's a hint: Right in the center of his presentation video – not the Presentation Slides "window".
The $100M Leads Book Ordering Page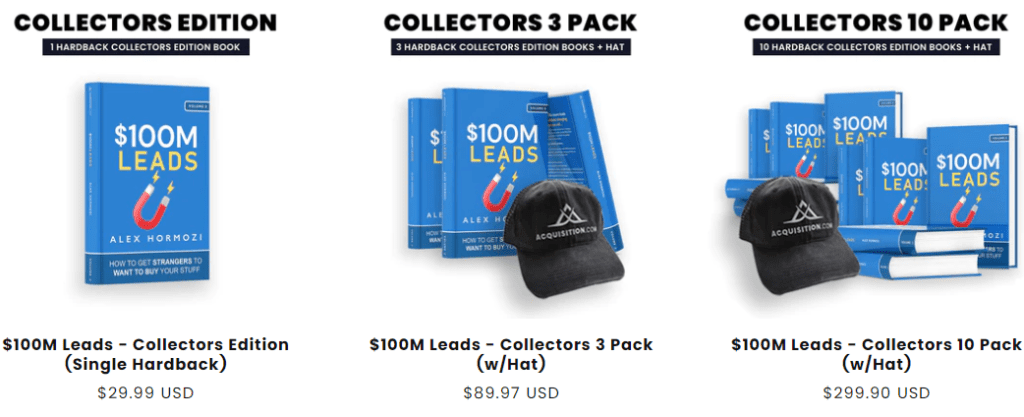 You can order the collectors edition books now from shop.Acquisition.com. While stock last.
The only thing bad (for us) about the Book Launch is that they are only shipping to a very limited list of countries US/CA/UK/AU/EU (For Now), omitting all of Asia…😞 Well, where there's a will there's a way, so hope my order can reach me…🙏🏼For my fellow Asians, wait for the book to appear on Amazon then.
One More Thing
Book 3 is done! 🤓 Again, omitting "Gym Launch Secrets".

P.S. Instead of getting gifts for his birthday, Alex is the one giving gifts… Belated Happy Birthday! at the time of this post being published.