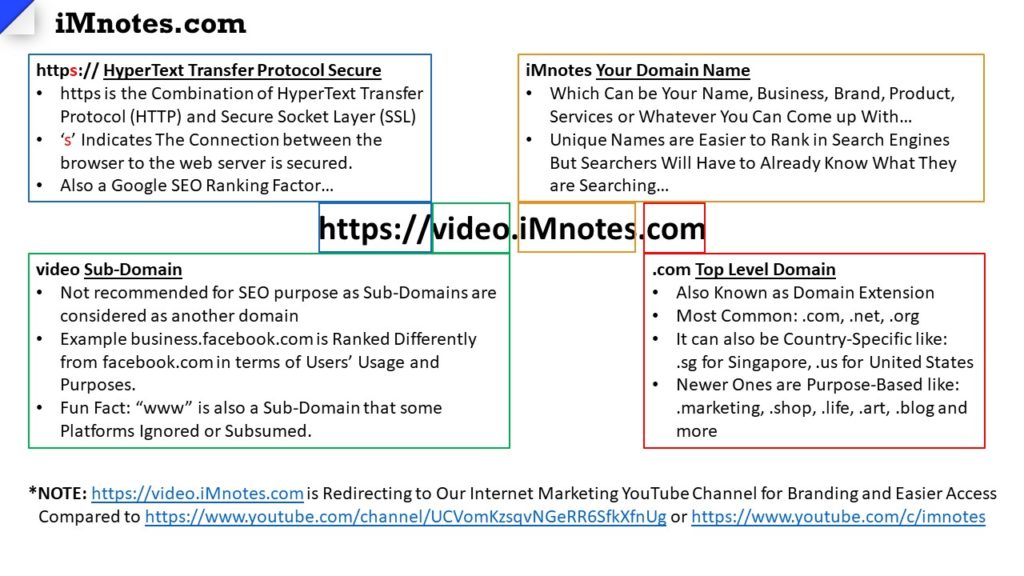 Google.com, Facebook.com, YouTube.com, Instagram.com, iMnotes.com, and so on… All these are Domain Names. It is basically the online address of your website for your Business or your Brand.
Why Do You Need A Domain Name?
Having a web address is how people can find you online. Just like if you want to purchase an iPhone online at Apple, you have to type Apple.com. If you want to buy a physical product, chances are you go to Amazon by typing Amazon.com in your browser.
It is also how people can recommend you to their friends. Imagine if you are a starting YouTuber like me, my channel URL is https://www.youtube.com/channel/UCVomKzsqvNGeRR6SfkXfnUg. Now how do you communicate that to anyone?
What if, I tell you that you can visit iMnotes.com/presents/videos or video.iMnotes.com to go to my YouTube Channel? Do you think you can remember that better? And to reach my channel without difficulties, typos, mistakes, etc.?

Well, that is just a link of course, but a domain name can also work the same way too as how I link secrets.marketing back to an affiliate offer and funnel.secrets.marketing to another without a web hosting. It can be done within a domain registrar the moment you register your domain.
Note that .marketing is a newer Top-Level Domain (TLD) just like .com that even Whatsapp would automatically recognize and change the words into a blue link.
How To Choose a Domain Name?
Choose something short, catchy or easy-to-remember, pronounce, spell and type.
Or at least Relevant with a Keyword Specific domain name for what you want to create online so that people can find you more quickly and know what your website is about almost immediately. Being keyword-specific will also help in your Search Engine Optimization (SEO) as search engines can categorize your site immediately just by "looking" at your domain name.
Big Brands with huge offline presence generally don't need Keyword-specific domain names. Example: Apple.com does not sell you fruits, Adidas.com or Nike.com – you may not even know it's a sporting apparel brand if they don't sponsor celebrities and sports events worldwide. "Nike" means Victory in Greek. While Adidas was derived from its founder's name Adolf ("Adi") Dassler.
Or find a unique name for your domain, for example, "Google" is not a word found in the dictionary originally. It is an invented name. So when people try to search for this unique name, most likely, your domain will appear.
With that said, it would be good to start with YourName.com as a Branding domain name to link to your business's keyword-specific Domain Name Site. Especially if you don't know what to do, just starting out – Your name is still your brand. Use it to try out and learn to build your business online with a website, blogging, or even a social platform. You can even use it as a Funnel or Landing Page for whatever Businesses, Products, or Services you want to promote.
In case you are just starting out, we would recommend you check out Groove after you got your Domain Name. You can do almost anything with the All-In-One Online Marketing Platform. We build MaxYeo.com with Groove.
More Things to consider when choosing a Domain Name
If you decide to pick a Keyword-specific domain name, pick one that people are already searching for online. You can try to use a keyword tool like Google Adwords Keyword Planner to research its monthly search volume.
Other things to consider would be singular or plural. Some domain names like iMnotes.com are not available, you could still purchase iMnote.com. Be careful with plurals or apostrophes S ('s) too as it can cause miscommunications like MarketersSecrets with the double "SS" in the middle if your second word happens to start with an 's'.
Or to have hyphens? For example, MarketingSecrets is not available, you could still try Marketing-Secrets, but I wouldn't really recommend hyphens in this time and age. It would be better to add a Prefix like a verb such as Create, Creating, etc, or a market target Prefix such as Business, SEO, Email, Blog, etc. By the way, "Marketing Secrets" is a trademark, so best to avoid it regardless of .net, .org, etc availability.

Again the general rule would be short, easy to remember, pronounce, spell, and type so that the domain name can be easily communicated visually and verbally without any miscommunication for people to find you online.
Domain Names To Avoid would be the involvement of numbers because it can be confusing. Let's say I talk over the phone with you to go to my the ten dot tv, in your mind you may be thinking MyThe10.tv, MyTheTen.tv, The10.tv, TheTen.tv? Notice that not only the numbers can be confusing, but the language structure can also affect the message. How about "go to my website, the ten dot tv, 10 being the number instead of text", kind of long to explain?
Other names to consider to avoid may also be the English spellings versus the American spellings like Colors or Colours, etc. Or some hip websites that drop vowels.
Domain Name SEO (Search Engine Optimization)
The More Unique The Name, The Lesser The Competition, and The Easier it is to Rank Your Website. But The Searcher would have to know the "keyword" that they are searching for already. For Example, You can have a gibberish domain name idkwiiialf.com and if people would search for idkwiiialf (Just Initials of a random thought: "I Don't Know What Is It I Am Looking For").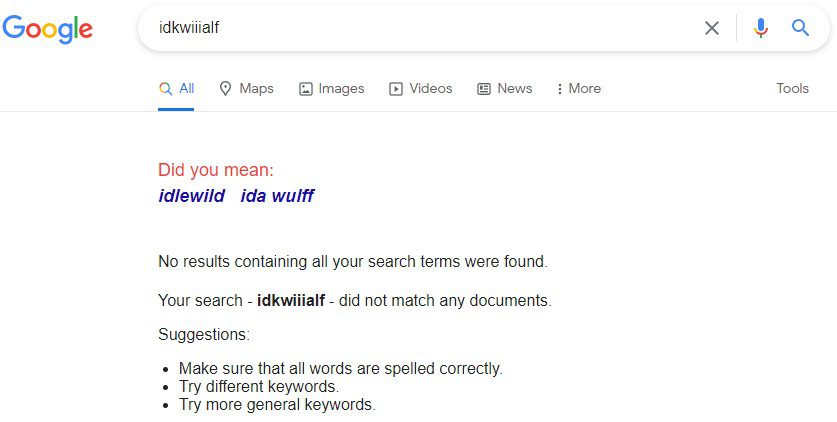 So if you have idkwiiialf.com, What are the chances Google will put you there on the Number One slot when People look for it? Of course, The chances of people looking for this keyword will be close to zero, except for You who read this blog post and google for it… Maybe our blog post would appear in your Google Search for this keyword instead. 🤣
Other than Top-Level Domains (TLD) such as .com, there are others extensions too such .co, .org, .me, etc. There are also niche-specific, purpose-based, or utility-oriented domain extensions like .marketing, .tech, .sale, .review, .news, .blog, .shop, .live and hundreds more to choose from.
Not to forget, there are also country-specific, like for myself from Singapore, I would take .sg. For certain TLDs, there are other requirements to be met, before you can register for them. Example .sg would require you to be a Singaporean or have a local business registration in Singapore. Hosting a .app or .page would also require SSL certificates.
Fun Fact: Do you know that .tv is actually a country-specific domain name for Tuvalu? And not what people may have related to as television, or videos-related websites. 🤓
Here's a Summary of Choosing a Domain Name
Choose a .com as much as possible
Get Your Name .com if still available (Some substituted with .name or .me)
Be as Short as possible, 3 keyword-specific words max
Easy to Remember
Easy to Communicate Visually & Verbally (Pronounce, Spell & Type)
Avoid Trademarks, Numbers, Different spellings, Typos
Registering a Domain Name
A .com domain name would cost around $10 per year. Always try to register for a .com first as .com is the first and most commonly remembered and recognizable domain name extension.
I used to have iMnotes.net too for fear of others stealing my traffic, I have dropped it as there are more than 1,500 extensions to choose from. Buying all of them? I might as well get a trademark to prevent everyone else from having it like how you cannot have "Google" in your Domain Name.

You can check the US Patent and Trademark Office for more details. Also note that a Trademark registered may only apply to the country in which the trademark was registered, unless the brand is big enough internationally. Alternatively, it may be better to let others build the name and accidentally get to my .com instead. 😏
If the domain is not available, but you really like it, you may see if it is available for sale too. As there are businesses out there built just on buying and selling domain names. You may also want to check the history of the domain name if its availability is too good to be true especially if you want to go the SEO way to rank your domain name on the search engines.
Where to Register a Domain Name?
There are many Domain Registrars out there… What we recommend is NameCheap where we register all our Domain Names, unless you are going for web3 domains, then it would be UnstoppableDomains.