Looking to Promote a Sales Funnel Company but spoiled for choices?
Before Applying to An Affiliate Program
Before you choose them, they may decide to see if you are a good fit too. You can try to apply to all, but do read the Affiliate Agreement carefully to see how you can profit.
Also, be prepared with these standard questions that they may ask of you:
Your Website address? (For them to assess you)
How will you Promote the Product? Email? Advertising? Social Media? Blog?
How big is your List/following?
Your Tax Information
The bigger the brand of the company, the harder it could be for you to get into their affiliate program especially when you are a newbie without any followings.
Be a Customer to Promote The Product?
Ideally, it would be great as your audience will be more convinced to buy from you, seeing that you are promoting something that you are personally using. Otherwise, you may be regarded as just in it to make a quick buck.
Especially when you are promoting a Sales Funnel software as the monthly cost can be considered high to many.
And if you can provide some form of guide or support in using the software, all the more reasons for them to buy through your links. However…
Best is Subjective
Understand that everyone has different needs and there is no one size fits all solution.
For some are extremely satisfied with what they can do even if the functionality of the software is limited. As long as the software can achieve what they want to accomplish, they don't need a full marketing suite that encompasses everything. Some may be even married to it with their past success with it.
Some may want to have just one software company to handle all their needs without going to another company for part of the solution. As support may be a headache when one company pushes the problem to the other.
Some will look at the monthly cost of the software above everything else as they believe there are many solutions out there to choose from. Or simply they do not feel the value of the software is worth the price.
Best in Value All-In-One Full Marketing Software Suite
While iMnotes.com is just a WordPress Blog, we do have an All-In-One platform that we use and have our highest recommendation: GrooveCM (Customer Matters)
Why Groove has our highest recommendation? (Now we're unsure. Update in another post soon)
Headed by Mike Filsaime, Founder of Genesis Digital LLC, and also the below-mentioned Kartra. Mike went on to create Groove after a 2-years non-compete agreement with Kartra. Groove is the youngest on this list, but built with the latest technologies.
While not all of the promised parts are delivered yet, the irresistible offer and what we deemed unbeatable is the lifetime price for the entire software suite, especially compared to the high monthly recurring costs of the rest of the sales funnels companies.
Unlike the rest with a limited trial period, GrooveCM has a free lifetime tier that you can try until you make money with it. You could also take your own sweet time to create demos on how to use the software to promote it. But do note that there will be a black bar notification on your site for free members.
Free members also get to use almost everything that Groove has to offer, just that it would be in limited quantities. For example, paid members get unlimited domains hosting, while free members get only 3, and there are plans to reduce further for the free tier members, and you don't even need to submit any credit card details to sign up and lock in your benefits if you haven't done so.

While some would prefer having recurring commissions, we prefer to keep ourselves and our friends lean by avoiding unnecessary monthly recurring costs. Not a fan of subscriptions as we could be paying money even when not using anything.
However we also understand that without recurring income, how can a business survive? Besides the marketing suite, Groove is also offering partners' products and services which some customers get upset that these weren't included in their "All-In-One Lifetime Deal".
If you are now worrying about Groove's future. Know that they also have their own Payment Processor, GroovePay. Just like PayPal, but built for marketers, reducing the nightmares of frozen PayPal accounts, and that's a recurring income for them too.
While you may think that the commission is a one-off payment, the sum is great. Paying Members Commission is at 40% with a 10% second tier, meaning that you get to make money from people referred by you when they made a sale. Non-Paying Members commission is only at 20% with no second tier.
Compared to a 40% commission for a $97 monthly subscription which is $38.80, it would take more than a year to get the same amount. Provided that your referral is still paying by then.
Wouldn't it be your monthly responsibility to ensure they are able to pay the company in order for you to earn your commission? If you truly care about the people who bought from you, how would you feel to see that they lose everything they built once they stopped paying monthly?
Note that Groove payout will only be available after 2 sales. And because of the power of their affiliate program, GrooveSell, IP addresses are being tracked too. So do not use the same IP address to promote to your friends offline. For example, asking them to sign up using your devices or WIFI, will be flagged as a fraud as though you are buying with your own affiliate link. You get to use GrooveSell in this way for your own Products and Services when you become a member too.
What You Can Use Groove to Do Now
At the time of writing this blog post, you can already do the following with GrooveCM:
| | | |
| --- | --- | --- |
| What You Can Do? | Groove CM Apps | Alternatives and their Costs per Year |
| Build Websites and Webpages | GroovePages | Wix/Squarespace $480/yr |
| Build Sales Funnels | GrooveFunnels | ClickFunnels $3,558/yr |
| Build Blogs | GrooveBlog | WordPress $720/yr |
| Build E-commerce Shops | GrooveKart | Shopify $1,200/yr |
| Integrate a Sales System | GrooveSell | Samcart/Infusionsoft $2,388/yr |
| Build Membership Sites | GrooveMember | Kajabi $1,908/yr |
| Customize Your Own Affiliate Program | GrooveAffiliate | TapAffiliate $1,788/yr |
| Create Your Email Marketing Campaigns | GrooveMail | ActiveCampaign $7,188/yr |
| Host Your Videos or Mask YouTube Videos | GrooveVideo | Vimeo $600/yr |
| Create Automated Webinars (Live Webinars Coming Soon) | GrooveWebinar | GoToWebinar/EverWebinar $4,080/yr |
| Having Social Proof of Purchases | GrooveProof | Provely $444/yr |
And More Apps are still in Development that are not discussed here…
With almost everything covered by them, you don't have to worry that they might tell you "Oh, this problem is caused by the other company, please refer to them" and when raised to the other company, only for them to reply: "it's working fine on our end, check with the other company". Going back and forth could take days and can be frustrating as precious time and business opportunities are wasted.
Note that Email Marketing is only for paid members at this time due to the previous misuse and abuse by spammers. And remember that Best is Always Subjective. What is Best for Us may not be the Best for you. So we are covering the rest in the categories below.
If you are willing to pay now and wait, it could be the very best deal you got for a long time, especially in the current recession climate, where cutting costs is just as important. But do know that with the above features, many people are already making money, selling their own products and services online as well as promoting Groove.
Most Established All-In-One Marketing Software Suite
Kartra was one of the first marketing platforms that provides an All-In-One Solution:
Email marketing campaign platform
Marketing automation platform (letting you build and automate your sales funnels)
Marketing page builders (landing pages, squeeze pages, sales pages, thank you pages, product launch pages, checkout pages, video sales letter pages, and more)
Membership portal builders
Shopping carts
Online form builders
Split testing and link tracking software
Calendar and appointment scheduling software
Helpdesk ticketing systems, including live chat
Video hosting (with advanced marketing features)
Affiliate management system
Campaign analytics platform
Custom programming to integrate your various marketing software platforms — Kartra seamlessly integrates all of the above already
Graphic designers — Kartra's professional, stunning templates designed to convert — for pages, emails, forms, and more — take care of that for you
Kartra's parent company, Genesis Digital LLC is also the creator of well-known webinar brands like WebinarJam and EverWebinar.
Best In Training and Popularity

This will surely be ClickFunnels, with it's founder Russell Brunson partnering up with Tony Robbins on a number of brands and having created the most engaging culture of raving fans – we consider them as the Apple in Funnel Software.
They have yearly live events, Funnel Hacking Live, with guest performers like Lindsey Stirling and keynote speakers such as Tony Robbins, Brendon Burchard, Dean Graziosi, Tom Bilyeu, Ryan Holiday, Prince EA, and more.
They also 2 Comma Club where their members get awarded for their sales milestone starting at 1 million dollars per funnel, thus the name 2 comma club.
Even Mike Filsaime admits that Russell Brunson is better than him when it comes to marketing. But he has the edge when it comes to marketing software development.
ClickFunnels took years to reach where they are, and at the moment, ClickFunnels is only focusing on building great Sales Funnels easily, meaning to say, the rest of the marketing software is outsourced (Additional "Hidden" Costs for ClickFunnels Users). Examples: Users are paying Vimeo for Video Hosting, ActiveCampaign for Email Marketing, Web Hosting for WordPress Blogs, and other developers for more advanced features in their funnels. ClickFunnels 2.0 will cover some of these hidden costs.
However, in order to promote the ClickFunnels software itself, you would have to earn a minimum of $1,000 commission in a month promoting other ClickFunnels products such as the OneFunnelAway Challenge, and Russell's books first.
Personally, we love to have the Best of both worlds by combining the Marketing Brilliance of Russell Brunson with the Advanced Software Technologies of Groove.
Best In Speed
While many consider ClickFunnels as Pricey and Slow, ClickFunnels 2.0 promise to be the fastest in time to come, building from scratch. At the point where they carried out the test, it goes to show that Groove has the fastest page loading technologies.
Sidenote: Groovepages can be really fast on loading speed but may have a poor score on Google PageSpeed Insights as actual loading speed is only part of a general scoring guide for what the developers did right. Ultimately, if your sites have too many "heavy" elements like videos, page loading speed will definitely be affected.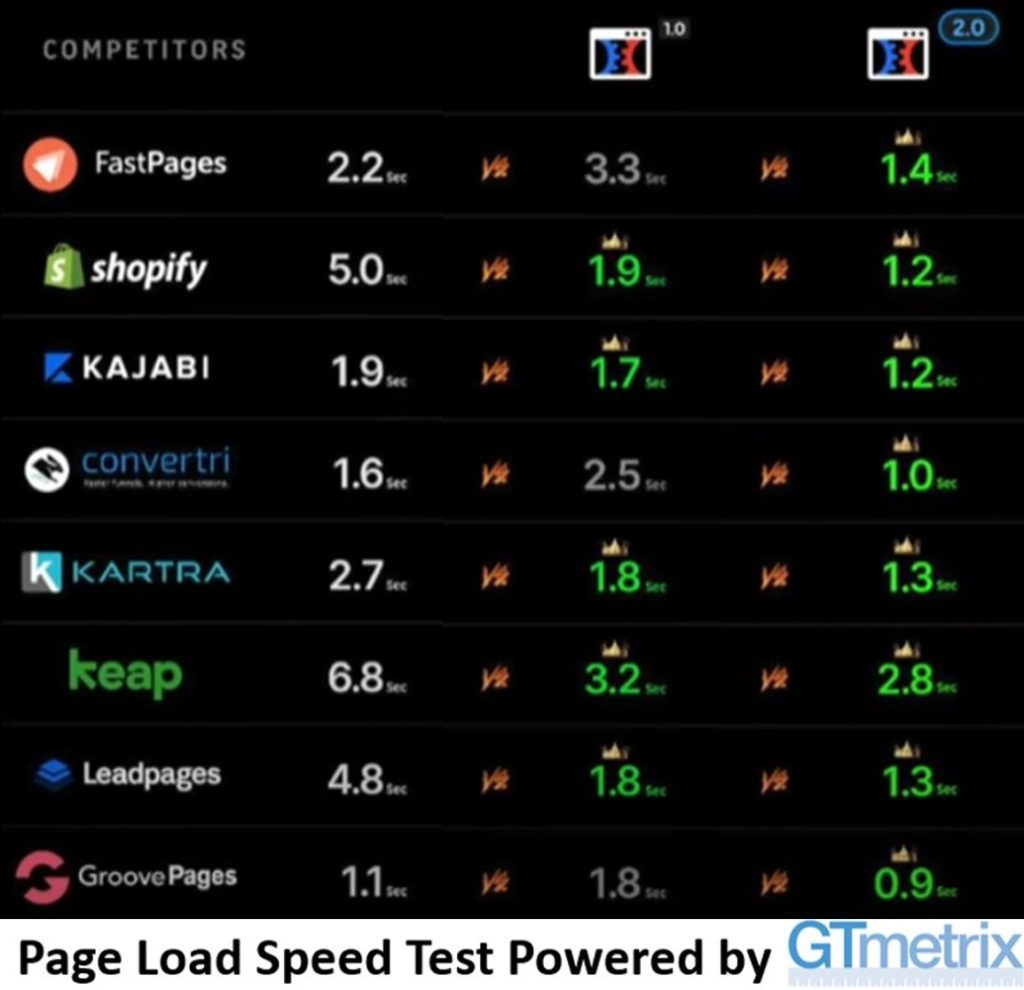 Not sure why ClickFunnels left out BuilderAll in their benchmark testing as there were some claims that they are the fastest loading funnel software company with its full suite of software also available at the most value for money at $69.90 per month for subscription-based SAAS – Not taking GrooveCM Lifetime Offer into consideration in this case.
2 Tier Affiliate Program
If you like to get a passive commission from people that you have recommended into the program, the following companies have 2 tier affiliate programs, meaning that you get paid a commission for the user recommended by you when they made a sale:
GrooveCM (2 Tiers For Paid Members)
BuilderAll
Remember when we said you should try them out before recommending them to your audience? Groove seems to be the only one with an unlimited time Free offer while most of them have a 14-day trial period.
Newest Sales Funnel Affiliate Program to Consider
Looking for the next shiny object? Here's a white-label version or agency version of GoHighLevel from our favorite Sales trainer, Peng Joon. Meet SalesProcess Software. The affiliate program is only for paying members, and because he is planning to disrupt the sales funnel builders industry, he is generously offering a 50% commission.
Why we are featuring Sales Process instead of GoHighLevel, is because, on top of what you will get from GoHighLevel, which is also aiming to be a complete marketing suite, you would also be getting Peng Joon's marketing materials, proven sales funnel designs, templates, and email marketing campaigns, and many more.
One thing about GoHighLevel that really impressed us was the ability to monitor all the conversations with your leads – FB messenger, Instagram DMs, email, text, and website chat, all in one conversation tab. Do note that for SMS integrations, there are additional costs using 3rd party software, Twilio. (GrooveCM is also coming out with their own Sales CRM, which we are patiently waiting, the latest news was that development will only begin in 2024…)
Update: at this point in time, we have decided to commit to both SalesProcess and GrooveCM, one for service-based Customer Relationship Management business and the other for product-based membership and content sites. We will be testing out both Sales Funnels with a similar copy.
Before we became Peng Joon's affiliate, we had so much value in learning from him that we would recommend people who are looking at GoHighLevel to try out with his team, without any commission.
Conclusion
Ultimately, if you plan to sell a product, service, or recurring membership online without being a coder, designer, or programmer, one of the above funnel builders should be able to fulfill your digital marketing needs.
If you are tech-savvy enough, you can build a Sales Funnel from WordPress too, but chances are you need to get different "components" from different companies and make sure they can work together.
And the best way to convince someone else to buy it from us is to be a user ourselves.
To your Affiliate Success.
P.S. Always keep an open mind. When it comes to technology development, just like between Microsoft and Apple, sometimes one has the edge over the other upon its newest release. No one company will be better than the rest all the time.
"The Best is not in the What but in the Why for You to Promote a Product."
Related Blog Posts